First Church of Christ Scientist, Middletown, CT
About Our Church
Built in 1830 as a sea captain's home, it was renovated to be our church 87 years later. Henry Bacon, designer of the Lincoln Memorial in Washington, D.C., and consulting architect at Wesleyan University, advised on the reconstruction.
On March 5, 2017 we celebrated 100 YEARS of Christian Science services. Everyone is welcome at all of our services & activities!
What Should I Expect At A Christian Science Church Service?
Sunday Service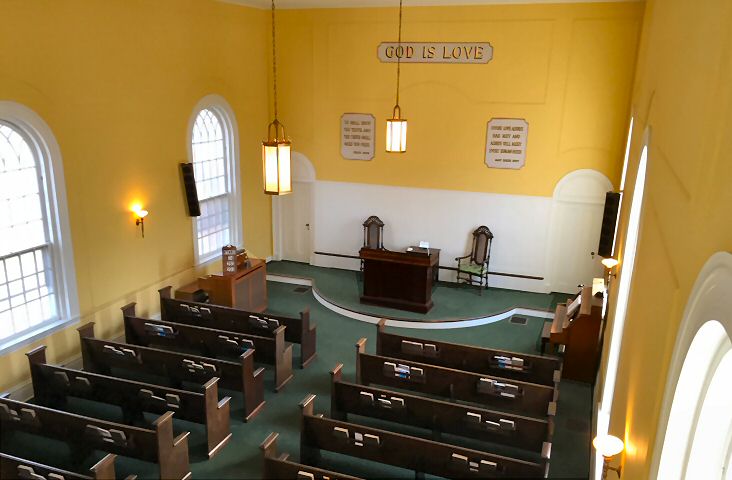 You are welcome to attend our Sunday service, with Sunday school for children up to the age of 20 held at the same time. Children too young for Sunday school are cared for in our nursery. Our Sunday school entrance is on Broad Street.

Two members conduct the service and read the Bible Lesson Sermon from the Christian Science Quarterly. The congregation sings three hymns. Silent prayer is followed by The Lord's Prayer. A beautiful solo is sung.
We are a Protestant denomination. Three quotes adorn the walls:
"Ye shall know the Truth and the Truth shall make you free."
"Divine Love always has met and always will meet every human need."
---
Wednesday Testimony Meeting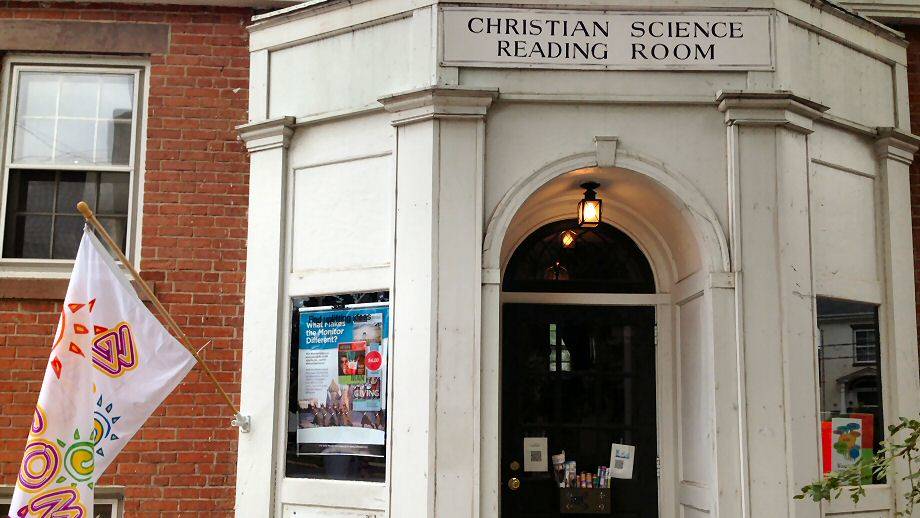 Our Wednesday evening testimony meeting is held in our Reading Room at 63 Broad Street. Brief selections are read from the Bible and Science and Health with Key to the Scriptures, by Mary Baker Eddy. The topic is based on current concerns and how to spiritually solve them.
The congregation sings three hymns, prays silently and then prays the Lord's Prayer out loud. After a hymn, everyone is able to share how they have used Bible-based truths to heal needs in their own lives, proving the practicality of prayer.
---
Who are Christian Scientists?
We are engineers, teachers, designers, care-givers, business people, college professors, coaches, lawyers, and maintenance workers–all yearning to know God as omnipotent Love as promised in the Bible. We've found Mary Baker Eddy's book, Science and Health with Key to the Scriptures, to be the best guide to understanding the spiritual meaning of the Bible.
This spiritual understanding, based on divine law, brings healing to every human condition.
---
What Is Our Mission?
"To organize a church to commemorate the word and works of our Master, Christ Jesus, which should reinstate primitive Christianity and its lost element of healing" — Mary Baker Eddy, Church Manual
---
About Christian Science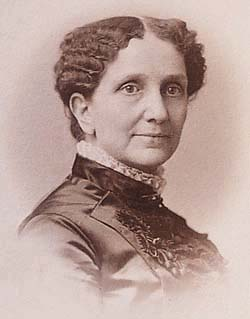 Christian Science was discovered by Mary Baker Eddy, a devout Christian woman from New England. When a doctor told her she had no hope of recovery after an icy fall, she turned to her Bible. Through her prayers to better understand Christ Jesus healing work, she was inspired to get up and walk out of her room. As a result of this healing, she discovered how God's laws healed and sustained her.
She writes in the textbook of Christian Science, Science and Health with Key to the Scriptures:
"In the year 1866, I discovered the Christ Science or divine laws of Life, Truth, and Love, and named my discovery Christian Science. God had been graciously preparing me during many years for the reception of this final revelation of the absolute divine Principle of scientific mental healing." (p. 107:1)
Mrs. Eddy healed poverty, discrimination, hunger, homelessness, sickness and personal defamation based on her discovery. For further exploration of Christian Science, including basic beliefs, accounts of healing and discussion blogs please visit www.christianscience.com or www.spirituality.com
Thanks so much for visiting and we hope to see you soon.
---
Church, Reading Room and Contact Information
Sunday Serviceand Sunday School
10:30 AM (In-person)
NOTE: No Sunday School
---
Wednesday Testimony Meeting
5 PM First week of every month
6:30 PM Starting in October
---
Thanksgiving Day Service
10:30 AM (In-person)
---
Reading Room Hours
NOTE: Our Reading Room is closed until further notice.
Church and Reading Room
63 Broad Street
Middletown, CT 06457
(860) 346-0511
Church and Reading Room Location
Send us an Email

Contact the Middletown Christian Science Church
---