First Church of Christ Scientist, Westport, CT
Nov 4, Sat, Norwalk: In-person lecture at 10:00 AM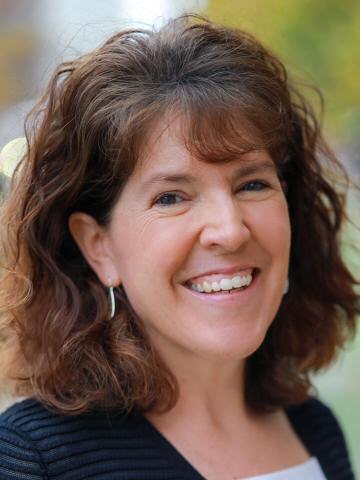 Title: NEVER ALONE: HOW SPIRITUAL IDEAS WORK IN US
By Melanie Wahlberg
Sat, November 4, 2023 at 11:00 AM ET
Location: South Norwalk Library, Community Room, 10 Washington Street. Norwalk CT 06854
"Giving freely of ourselves and what we all gain," a talk by practitioner of Christian Science healing and international speaker, Melanie Wahlberg. The talk will focus on universal healing precepts found in the Holy Bible, especially in Christ Jesus' life and teachings, showing how they are available for anyone to understand and experience through the lens of Christian Science. The talk is free, open to the community, and sponsored by First Church of Christ, Scientist, in Westport.
"When we feel overwhelmed by life's problems, we may want to try to get more from the world," says Ms. Wahlberg. "But when we do the opposite-give more of ourselves or focus on the God-given qualities we already have to express or contribute, we find that we end up not lacking anything. Really, we gain the unexpected good of joy, health, and strength that move our lives and the world forward."
Sharing examples of healing from her own life and professional practice of Christian Science, Ms. Wahlberg will explain why Christian Science is both Christian and scientific, meaning that people can prove its effectiveness for themselves, as fully described in the book Science and Health with Key to the Scriptures, written by the founder of the Christian Science movement, Mary Baker Eddy.
Ms. Wahlberg will also touch on the life of Mary Baker Eddy, and how she came to understand, confirm, and teach what she felt was original Christian healing. Eddy herself said she was especially inspired by Jesus' demand, "He that believes on me, the works that I do will he do also; and greater works than these will he do, because I go unto my Father" (found in the Gospel of John 14:12 in the Bible).
For over 150 years, people around the world have worked to follow Christ Jesus in this practice of Christianity and continue to do so today, with healings of physical ills and personal difficulties.
---
Nov 5, Sun, Norwalk: In-person lecture at 2 PM in Spanish
5 de noviembre, domingo Conferencia presencial a las 2 p.m.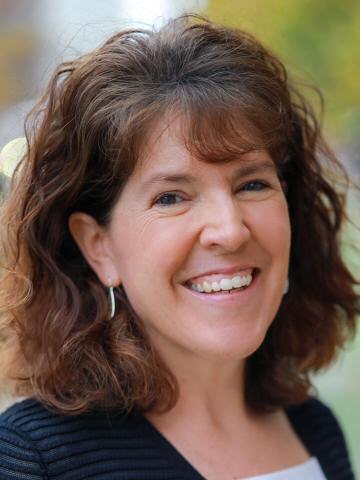 Title: WE ARE NEVER ALONE: HOW SPIRITUAL IDEAS WORK IN US
NUNCA ESTAMOS SOLOS: CÓMO TRABAJAN EN NOSOTROS LAS IDEAS ESPIRITUALESD
By Melanie Wahlberg
Sun, November 5, 2023 at 2:00 PM ET
Domingo 5 de noviembre a las 2:00 p.m.
Location: South Norwalk Library, Lower level teen center, 10 Washington Street, Norwalk CT 06854
Biblioteca de South Norwalk, centro para adolescentes de nivel inferior, 10 Washington Street, Norwalk CT 06854
"Dar libremente de nosotros mismos y de lo que todos ganamos", charla de la practicante de sanación de la Ciencia Cristiana y oradora internacional, Melanie Wahlberg. La charla se centrará en los preceptos universales de curación que se encuentran en la Santa Biblia, especialmente en la vida y las enseñanzas de Cristo Jesús, mostrando cómo están disponibles para que cualquiera los entienda y experimente a través de la lente de la Ciencia Cristiana. La charla es gratuita, abierta a la comunidad y patrocinada por la Primera Iglesia de Cristo, Científica, en Westport.
"Cuando nos sentimos abrumados por los problemas de la vida, es posible que queramos intentar sacar más del mundo", dice la Sra. Wahlberg. "Pero cuando hacemos lo contrario: dar más de nosotros mismos o centrarnos en las cualidades dadas por Dios que ya tenemos para expresar o contribuir, descubrimos que al final no nos falta nada. Realmente, obtenemos el bien inesperado de la alegría, la salud, y fuerza que hacen avanzar nuestras vidas y el mundo".
Compartiendo ejemplos de curación de su propia vida y práctica profesional de la Ciencia Cristiana, la Sra. Wahlberg explicará por qué la Ciencia Cristiana es tanto cristiana como científica, lo que significa que las personas pueden probar su efectividad por sí mismas, como se describe completamente en el libro Ciencia y Salud con Claves. a las Escrituras, escrito por la fundadora del movimiento de la Ciencia Cristiana, Mary Baker Eddy.
EM. Wahlberg también abordará la vida de Mary Baker Eddy y cómo llegó a comprender, confirmar y enseñar lo que ella sentía que era la curación cristiana original. La propia Eddy dijo que estaba especialmente inspirada por la demanda de Jesús: "El que cree en mí, las obras que yo hago, él también las hará; y obras mayores que éstas hará, porque yo voy a mi Padre" (que se encuentra en el Evangelio de Juan 14:12 en la Biblia).
Durante más de 150 años, personas de todo el mundo han trabajado para seguir a Cristo Jesús en esta práctica del cristianismo y continúan haciéndolo hoy, con curaciones de enfermedades físicas y dificultades personales.
---
Our church is now open for in-person Sunday services, Sunday School and child care. Wednesday services in-person AND simulcast via Zoom
We are open!
We are happy to announce that church is now open for in-person Sunday services, Sunday School and Child Care.
Wednesday services are now in-person AND simulcast on Zoom. To attend the Wednesday service from home, click the link below from your computer or smartphone. There is no need to do anything else first.
About Our Church
Learn More About God, Who Loves You Unconditionally, At A Church That Welcomes You With Open Arms.
First Church of Christ Scientist, Westport, is located at 55 Compo Rd South, just off of the Post Road. We are a church dedicated to finding spiritual solutions and healing for every type of problem people face today. Depression, marital problems, grief, sports injuries, drug dependance, alcoholism, illness of every kind can be healed through prayer.
We welcome you to join us and learn more about your relationship to our Father-Mother God, to feel the love of his Christ and to grow spiritually along with your friends and neighbors.
---
Sunday Services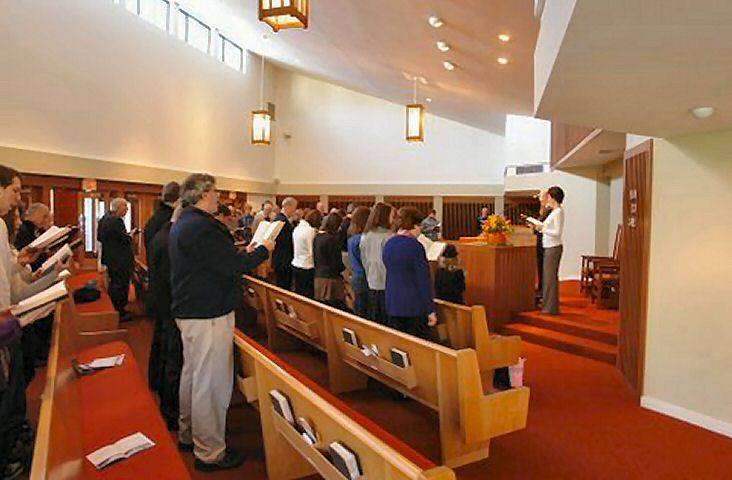 The Sunday Healing service is conducted by two lay readers elected from the membership who read a bible Lesson-Sermon which consists of passages from the King James version of the Bible and the Christian Science textbook, Science and Health with Key to the Scriptures, by Mary Baker Eddy.
Also included in the service are readings from the Scriptures, prayer, hymns, and other musical selections including a vocal solo.
---
Sunday School
The Sunday school is located upstairs in the church building, and children up to the age of 20 are welcomed. Here, students can discuss ideas from the weekly Bible Lesson with people their own age and with an experienced teacher. Students learn to know and love God and how the teachings of Christ Jesus can help in overcoming problems they may face in school, in relationships, in sports and social activities, at work or anywhere.
Parents are encouraged to visit with the teachers before and after the services to learn more about the curriculum. All are welcome!
---
Wednesday Testimony Healing Meeting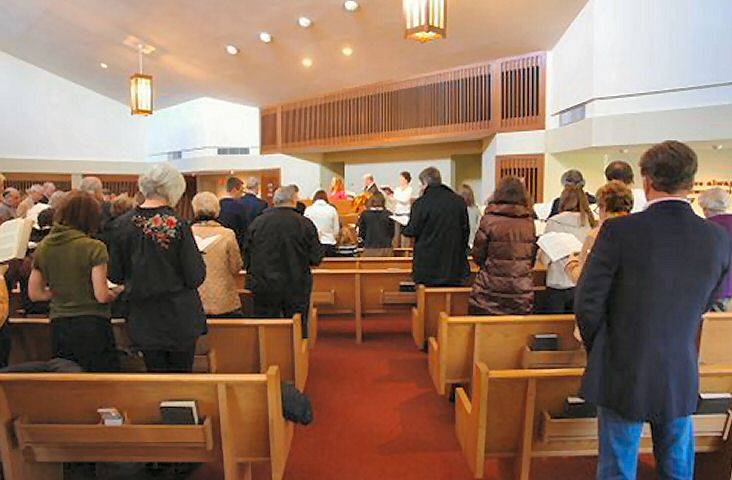 Wednesday testimony meetings are held in the church and last one hour.
Topical readings from the Bible and from Science and Health are followed by the floor being opened to the congregation, to share how they have used Christian Science to spiritual heal physical, personal, financial and other problems.
---
Children's Room
We provide care in our Children's Room during all services for infants and small children.
---
Reading Room
We have closed our Reading Room in Stratford.  Please check back for details on our new Reading Room home which is in process!
---
About Christian Science
Christian Science is an established denomination and a deeply committed Christian church whose theology rests upon the inspired teachings practiced by Christ Jesus and his disciples. First Church of Christ, Scientist, Westport is one of the many branches of The Mother Church, The First Church of Christ, Scientist in Boston. Mary Baker Eddy established The Mother Church in 1879.
Her purpose was:
"To organize a church designed to commemorate the words and works of our Master [Christ Jesus], which should reinstate primitive Christianity and its lost element of healing" (Church Manual).
You are always welcome at our services.
---
Lectures on Christian Science
This church sponsors lectures, giving our community the opportunity to learn more about the teachings of Christian Science and their application to daily life. If you are interested in receiving an invitation to the next lecture, please fill out a card from the pew rack and give it to an usher.
---
Christian Science Practitioners
Practitioners are available to help individuals find healing through prayer. They can also help answer questions about Christian Science. You'll find a directory of practitioners in The Christian Science Journal. Free copies are available in the lobby.
---
Church, Reading Room and Contact Information
Sunday Serviceand Sunday School
10 AM (In person)
---
Wednesday Testimony Meeting
7 PM (In-person or Zoom)
---
Thanksgiving Day Service
10 AM
---
Reading Room Hours
Sunday 11-11:30 AM
Wednesday 8-8:30 PM
Also by appointment. Please call or email.
203-612-1010
Church and Reading Room
55 Compo Rd South
Westport, Connecticut 06880
203-612-1010
Mailing Address
55 Compo Road South,
Westport, CT 06880
Church and Reading Room Location
Send us an Email

Contact the Westport Christian Science Church
---
Make a Donation
Click the button above to make a donation to our church using your credit card or PayPal.