First Church of Christ, Scientist, Guilford, CT
About Our Church
We are a branch church of The Mother Church, The First Church of Christ, Scientist in Boston Massachusetts, founded by Mary Baker Eddy.

You are warmly welcomed here as we seek to gain a deeper understanding of God as our divine Mother and Father and the loving Creator of All.
Mary Baker Eddy's definition of church is: The structure of Truth and Love; whatever rests upon and proceeds from divine Principle.
The Church is that institution, which affords proof of its utility and is found elevating the race, rousing the dormant understanding from material beliefs…
… to the apprehension of spiritual ideas and the demonstration of divine Science, thereby casting out devils, or error, and healing the sick.
April 27, Guilford: In-Person Lecture at 7 PM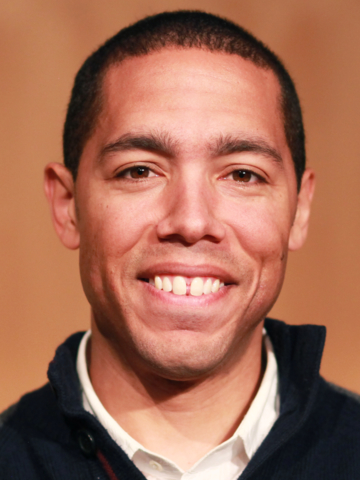 Title: MAKING MEANINGFUL CHANGE: HOW GOD'S LOVE CAN CHANGE YOUR LIFE AND THE WORLD
By Mark McCurties
Thu, April 27, 2023 at 7:00 PM ET
Location: Church, 49 Park St, Guilford CT
We live in a world where millions of people are striving to make change for the better. So, in a world seeking positive change, how do we make sure that such change actually happens? Speaker Mark McCurties says, "We all have a natural desire to improve ourselves and the world around us. In my own life I've found that letting God, divine Love, guide and direct my efforts brings permanent and meaningful results."
"The desire to change ourselves, to improve our character, our relationships, our life prospects can also go beyond just the boundary of our own lives and the four walls of our home. Many men and women around the world have a sincere yearning to improve the collective experience of mankind," says McCurties. "In this lecture, I will explain how God's loving and saving power is the greatest agent for change, and that through a right understanding of God, His power can be seen and felt right here and now, bringing health and peace to the world."
The ideas in this lecture are based on the teachings of Jesus as recorded in the Bible, and as discussed in Science and Health with Key to the Scriptures, by Mary Baker Eddy. McCurties has had a life-long love of the Bible and its inspiring message of individual triumph over adversity. After graduating from college, he spent a number of years in the field of education where he worked as a camp director, experiential educator, resident counselor, and athletics coach. While working with young people, he had many opportunities to witness the healing power of God, and these inspiring experiences eventually led him into the full-time public practice of Christian Science.
---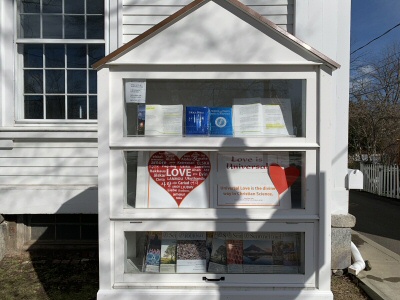 Visit our kiosk in front of the church.
It includes highlighted passages from the current weekly Bible lesson as well as literature with contemporary topics for you to take and enjoy.
---
Sunday Services
The Sunday service consists of the weekly Bible Lesson Sermon read by lay people who have been elected from the membership. The lesson is a compilation of citations from The King James Version of The Bible and Science and Health with Key to the Scriptures by Mary Baker Eddy. These books have been designated as our Pastor.
The same lesson is heard in all Christian Science churches throughout the world and has been studied throughout the week by many of those who attend. Printed copies are available at our Christian Science Reading Room.
During the service, you will hear hymns, a scriptural selection and a solo all chosen to support the weekly lesson sermon. Child care is lovingly provided for those too young to attend Sunday School or church services.
---
Sunday School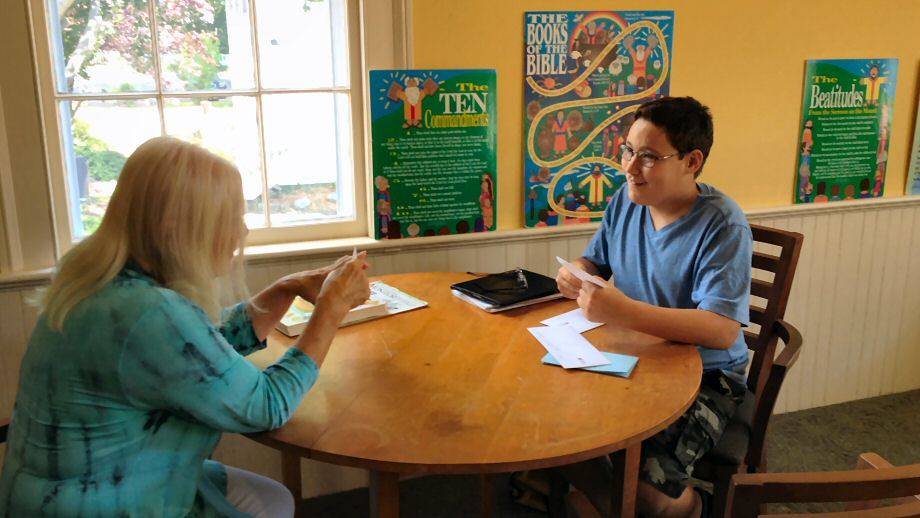 We have a very active and enthusiastic Sunday School with classes ranging in age from 3 to 19. Experienced Christian Scientists teach the children how to find the answers to all questions in The Bible and Science and Health with Key to the Scriptures and how to rely on God in every situation and under all circumstances.
Each class has age-appropriate discussions on how they can turn to God for guidance, protection and healing. Visitors are always welcome. The Sunday School meets at the same time as the Sunday church service.
---
Wednesday Evening Services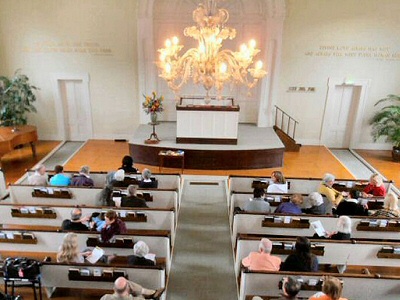 Every Wednesday evening a meeting is held that includes brief readings and hymns compiled by the First Reader.
Following the readings, approximately 30 minutes are devoted to testimonies when members of the congregation are able to share how they have been healed or inspired through study and reliance on Christian Science.
---
Thanksgiving Service
Join us for a special service for giving thanks. This unique service includes readings from the Bible and Science and Health, and time during which anyone in the congregation may give testimonies geared to the special day. This service is held at 10:30 on Thanksgiving morning.
---
Enjoy a Solo
The Sunday service includes the singing of three hymns and an inspirational solo. Enjoy listening to our soloists, Schuyler Beeman or Tom Heilman, accompanied by Chad Hardin, our pianist.
---
Children's Room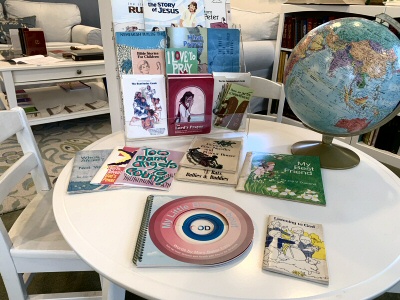 Experienced attendants lovingly care for infants and children too young for the Sunday School during the Sunday and Wednesday services.
---
Reading Room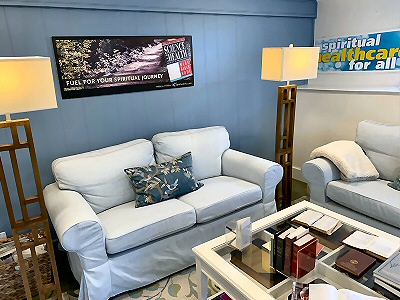 Walk into an atmosphere of comfort, light and inspiration. You will find The Bible, the Christian Science textbook, Science and Health With Key to the Scriptures, and all Christian Science publications for purchasing, borrowing or reading while visiting.
You can find answers to any questions you may have as well as timely articles written to inspire and help us pray about all facets of life. A knowledgeable student of Christian Science will welcome you and be ready to answer any questions you may have.

Our reading room is a peaceful place to study, learn more about Christian Science and get a deeper sense of God's Love for you.
---
Additional Resources
Christian Science Practitioners
Christian Science practitioners are available to help individuals find healing through prayer. You can find a directory of Christian Science practitioners in the Christian Science Journal. Free copies are available in our kiosk in front of the church or you may purchase a copy in the reading room.
Sentinel Watch
Sentinel Watch is a weekly audio podcast produced by the Christian Science Publishing Society. It includes guests who explore timely topics and share how God's laws have been a practical help. Have a listen!

Daily Lift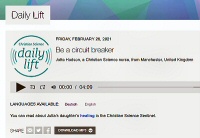 Daily Lift podcasts are short takes on inspiring ideas to enrich your day and share with friends. Subscribe and get the Daily Lift delivered to your inbox five mornings a week.
---
---
Church, Reading Room and Contact Information
Sunday Serviceand Sunday School
10:30 AM (In person) and via Zoom
Join our Zoom service
Meeting ID: 848 0548 1698
Passcode: 343426
---
Wednesday Testimony Meeting
7:30 PM (In person) and via Zoom
Join our Zoom service
Meeting ID: 848 0548 1698
Passcode: 343426
---
Thanksgiving Day Service
10:30 AM
---
Reading Room Hours
Open Tuesday through Saturday from 12-2 as well as after Sunday and Wednesday services
Church and Reading Room
49 Park Street
Guilford, Connecticut
(203) 453-9175
Church and Reading Room Location
Send us an Email

Contact the Guilford Christian Science Church