Hymns by Mary Baker Eddy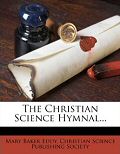 First published in 1898, the Christian Science Hymnal contains traditional Christian hymns, and well as hymns unique to Christian Science. A number of hymns are arrangements of seven poems written by Mary Baker Eddy.
The hymns are played by Chuck Thatcher, who was formerly the organist at the Ridgefield church. The music is provided for your personal enjoyment, and is copyright © 1994 by Chuck Thatcher. Used by permission. All Rights Reserved. The recordings were made at the First Church of Christ, Scientist in Ridgefield, CT.
Read the Christian Science Hymnal, with seven hymns written by the Reverend Mary Baker Eddy. The book was digitized by Google from the library of Harvard University and uploaded to the Internet Archive. View the Hymnal Online
If you enjoy listening to the music, please feel free to drop me a note.
---
Tips on Using the Audio Player
By typing into this box, you can search for any word in a lecturer's name.
It also works for any word in the title.
These two buttons let you quickly replay the last 10 seconds, or fast forward 10 seconds. You can press them as many times as you like.
You can replay any part of the lecture by using this bar. Or, you can go to any point in the lecture you want to hear.
First, click the round icon at the bottom of the player.

A box will appear which lets you adjust the playback speed.
You can speed up by moving the slider to the right, or slow down by moving it to the left.
Left arrow = previous track
Right arrow = next track
Space = toggle playback
m = toggle mute.
By default, lectures are sorted by the full name of the lecturer. If you click this button, they will be sorted by the title of the lecture.
Adjust the volume by using this slider.
The default setting is 100%.
Click this button, and the player will change to a popout window. You can move this window anywhere you want while the lecture keeps playing.
This lets you do other things while you listen to a lecture.