First Church of Christ Scientist, New Canaan, CT
About Our Church
First Church of Christ, Scientist, New Canaan, Connecticut is located in the town's historic district at 49 Park Street one block north of the railroad station. Our church is a branch of The Mother Church, The First Church of Christ, Scientist in Boston, Massachusetts. Established in 1923, this branch is one of over 2,000 branches in over 70 countries around the world. The present edifice was built in 1953.
The services on Sunday mornings and Wednesday evenings are open to the public, and a warm welcome is extended to all.
---
New Canaan On-Line Lecture Sun, Nov 7 at 3:00 PM ET
Title: HOW SPIRITUAL PERCEPTION BRINGS HEALING

By Alexandre Fischer

Sun, November 7 at 3:00 PM ET

Location: On-line
Submit a question below, and Alex will answer it in the Q&A section.
About the Lecture
This lecture, or heart-to-heart sharing, will give you an overview of Christian Science, its key principles, a bit of its history, some examples of healings and some clarifications about typical misconceptions.
I do sincerely hope that after our time together, you'll have enough of a basis to begin to test its ideas and bring more harmony to your own life.
About the Lecturer
I practiced law in France and in the United States for several years. As a litigation lawyer in France, I used to argue cases in court and I did my best to meet my clients needs. Practicing law was not just my job, it was a passion. In my childhood, I read law books for pleasure and attended court hearings. To me, being a lawyer meant precision in thinking and a desire to help others get out of trouble.
During those legal years, I got more and more interested in Christian Science. At first, I was just impressed by its remarkable healings and resolutions. But as I dug deeper, I found a profound spirituality. To me back then, religion and spirituality meant accepting a system of beliefs and the letting go of discernment and critical thinking. But the more I studied and practiced this deep spirituality, the more I found that it was not about believing in anything. It was about exercising critical thinking in understanding spiritual concepts, which in turn could be applied to one's life to bring healing.
Gradually, I gave up my law practice and became a full time Christian Science practitioner. I'm not a lawyer anymore, but I still work to help others get out of trouble, to get out of a sense of limitations, to find more freedom. But the way I see it, Christian Science is not just about feeling better or fixing problems. It's about being willing to challenge one's world view as entirely molecule based and soulless, to be open to see the world as spiritually based, and experience how this change in perspective brings inner peace and healing. It is about understanding more clearly our relationship with God, infinite good. It is about understanding Christ Jesus' message in a non dogmatic way, bringing healing, harmony and freedom to our life.
---
Our Reading Room is open. Sunday services and Sunday school have resumed. Wednesday meetings via Zoom.
The New Canaan church has re-opened for Sunday services, following current state and local public health protocols.
Our Sunday School is also open at the same hours as our Sunday service. Hours are listed in the footer. Wednesday evening testimony meetings will be broadcast on Zoom for the time being, with future announcements to be made. For an invitation to Wednesday Zoom meetings, call 203-966-0293 or e-mail cschurchnc@gmail.com.
---
Sunday Services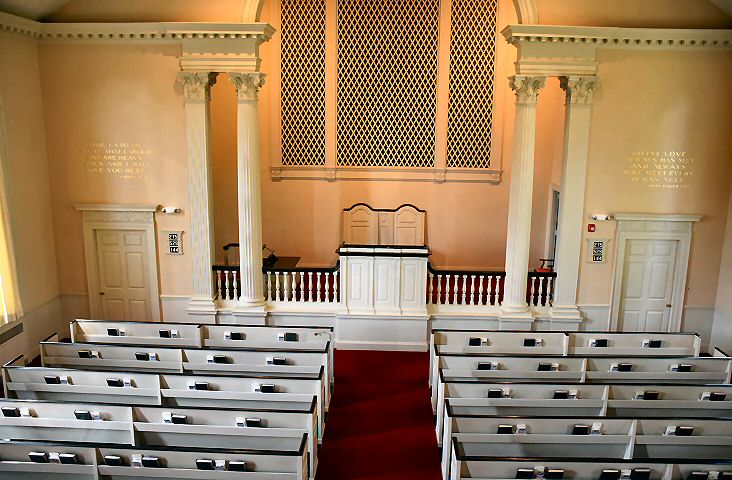 The Sunday service is conducted by two lay readers elected from the membership.
The service consists of Scriptural readings, prayer, sermon, hymns, and other musical selections.
Readings from the weekly Lesson-Sermon, which consists of passages from the King James version of the Bible and the Christian Science textbook, Science and Health with Key to the Scriptures, by Mary Baker Eddy comprise the sermon.
These two books are the Pastor of the church, as ordained by Mrs. Eddy, the author of the textbook and the Discover and Founder of Christian Science.
---
Sunday School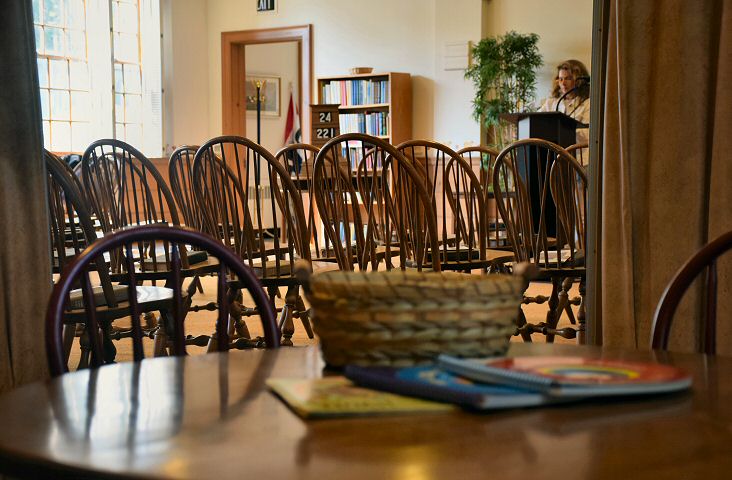 Located on the lower level of the church building, the Sunday School is open to children and young people up to the age of 20.
Beginning classes are taught the Ten Commandments, the Beatitudes and the Lord's Prayer with its spiritual interpretation. Older classes are taught from the Weekly Lesson- Sermon.
The children learn to know and love God and to prove the teachings of Christ Jesus in overcoming problems in their lives. A Registrar is there to welcome visitors and direct them to the appropriate class.
Parents may visit with the teachers before and after the services to learn more about the curriculum. All are welcome!
---
Wednesday Evening Services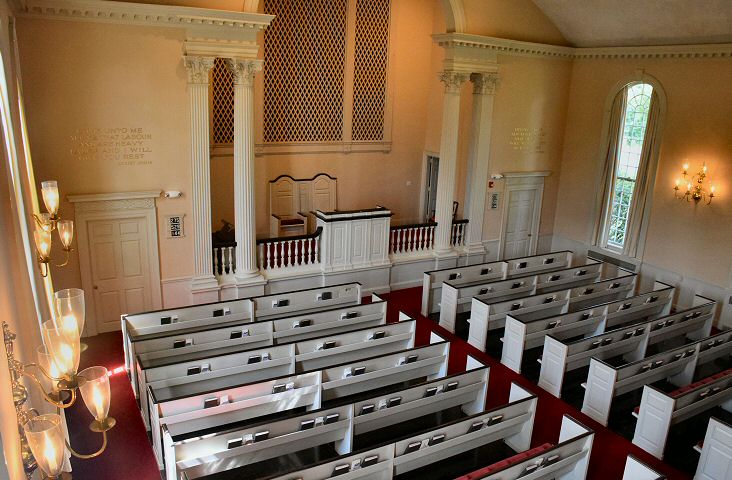 The Wednesday evening meeting lasts one hour.
Readings from the Bible and Science and Health are followed by testimonies from the congregation who relate spiritual healings of physical, personal, financial and other problems.
---
Children's Room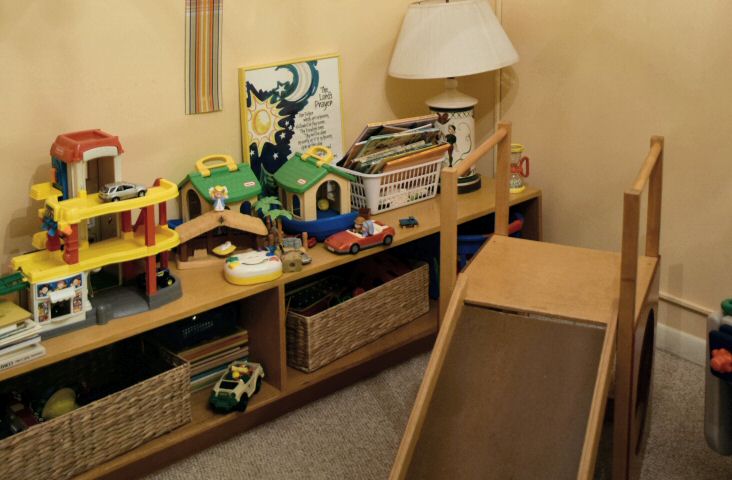 Experienced attendants lovingly care for infants and children too young for the Sunday School during the Sunday service.
The children's room is located next to the Sunday School room.
---
Reading Room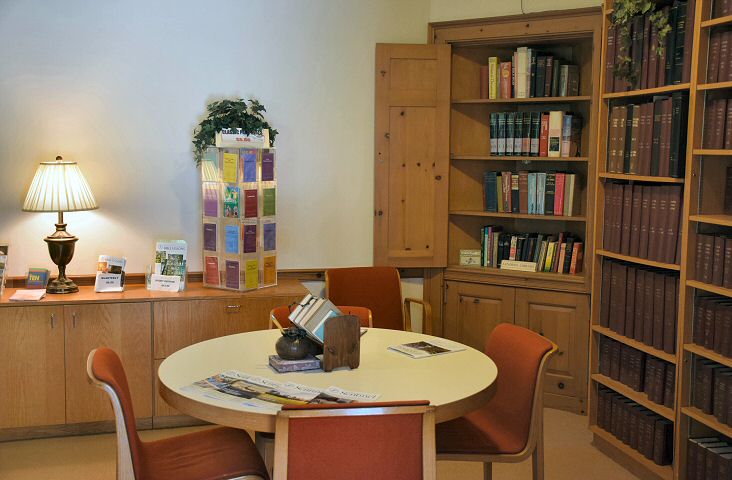 The church maintains a Reading Room which is open to the public in the church building.
The Christian Science textbook, Science and Health with Key to the Scriptures by Mary Baker Eddy, as well as other reading materials such Bibles, Bible commentaries and dictionaries, biographies, church periodicals, pamphlets and children's books are available to purchase or borrow from the Reading Room.
We provide a comfortably furnished study room. There one can study the Weekly Lesson-Sermon, or browse through church periodicals, which include articles on Christian Science and confirmed testimonies of healing published over the last 100 years.
A computer is also available for reference use. The international daily newspaper, The Christian Science Monitor, may be read or purchased.
An attendant is always on duty to help answer any questions about Christian Science. All are welcome.
---
Additional Resources
christianscience.com This official web site of the Mother Church provides detailed information on Christian Science. Answers to frequently asked questions are presented, as well as information on a variety of topics such as Mary Baker Eddy (the Discover and Founder of Christian Science), and Christian Science publications, lectures and broadcasts.
www.spirituality.com This web site explores practical spirituality from a Christian Science viewpoint by providing information on spirituality, wellness, self/identity, relationships, career/workplace, and financial security.
www.csnyc.com This web site lists the Christian Science churches in New York City and the surrounding counties in Connecticut, New Jersey and New York State.
---
Church, Reading Room and Contact Information
Sunday Serviceand Sunday School
10:30 AM (In person)
---
Wednesday Testimony Meeting
7:30 PM via Zoom
---
Thanksgiving Day Service
10:30 AM
---
Reading Room Hours
Open Mondays 11-2
Call to confirm hours 203-966-0293
Church and Reading Room
49 Park Street
New Canaan, Connecticut 06840
(203) 966-0293
Church and Reading Room Location
Send us an Email

Contact the New Canaan Christian Science Church