First Church of Christ Scientist, Ridgefield, CT
About Our Church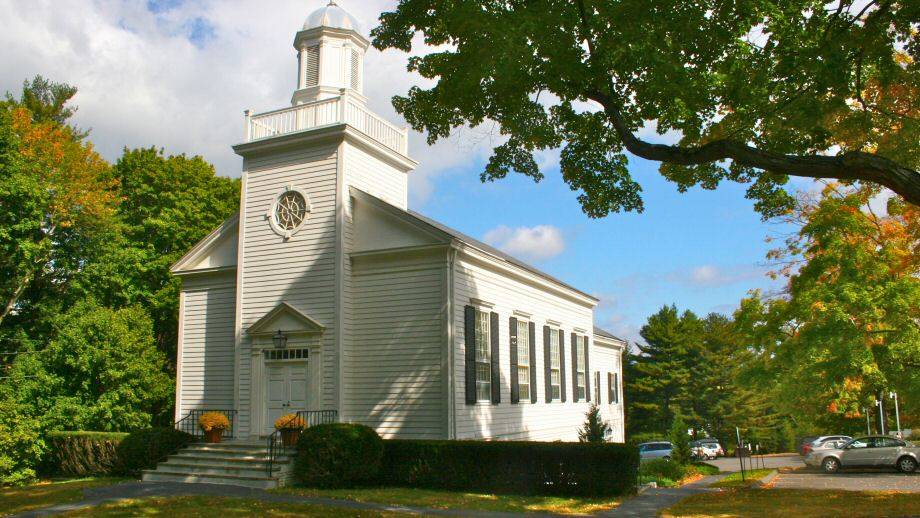 Our church's aim is to help people know God in a way that is spiritually practical — solving problems and bringing healing to their lives.
We are located at 260 Main Street in Ridgefield, Connecticut, only two blocks from the town center, and adjacent to the Aldrich Museum. All are welcome at our Sunday and Wednesday evening services. Our church is a branch of The First Church of Christ, Scientist in Boston, Massachusetts, also known as The Mother Church.

---
To access our Zoom services
Go to: https://zoom.us/j/2034384780. You will need the Meeting ID: 203 438 4780 and Meeting Password: 783113.
To access the meeting by phone, you can call 646 558 8656 and use Meeting ID: 203 438 4780 followed by #. Next you will be asked for a Participant ID. Just hit #. Finally, you'll be asked for the Meeting Password. Type in 783113 and press # again. You should be connected to the meeting by phone.
---
Sunday Services: In-person and remotely via Zoom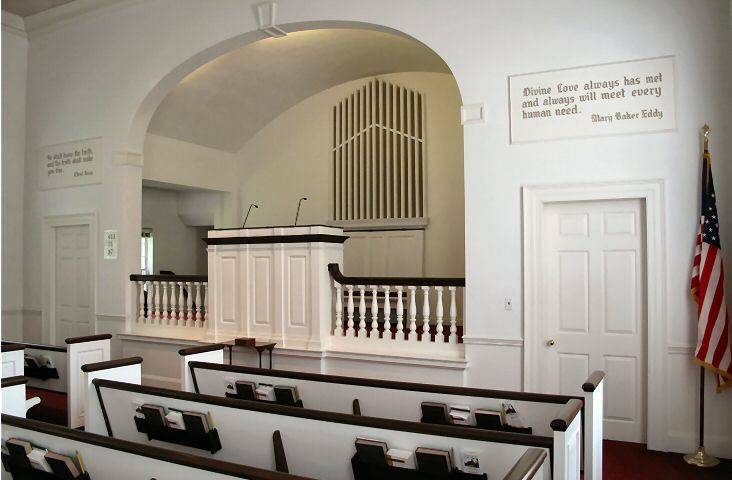 Our Sunday service lasts one hour, and includes congregational singing, a vocal solo, organ or piano music, silent and collective prayer, the audible praying of the Lord's Prayer, Scriptural reading, and a collection. You may listen to recordings of Mary Baker Eddy's hymns played on our church organ.
Two Readers elected from our membership conduct the Sunday services. One reads passages from the Bible. The other reads passages from the Christian Science textbook, which interpret and explain the Bible passages. This textbook, Science and Health with Key to the Scriptures was written by Mary Baker Eddy, the discoverer and founder of Christian Science.
In order to move away from personal preaching, Mrs. Eddy ordained these two books to be the pastor of the Church. There is no ordained clergy. Every Sunday, in Christian Science churches throughout the world, the service is based on the Lesson-Sermon for that week. You may read the Lesson-Sermon for this week online by clicking here.
The Lesson-Sermon is outlined in the Christian Science Quarterly, a periodical which may be obtained from a Christian Science Reading Room, or ordered by mail, phone, or through the Internet.
---
Wednesday Evening Meetings: In-person and remotely via Zoom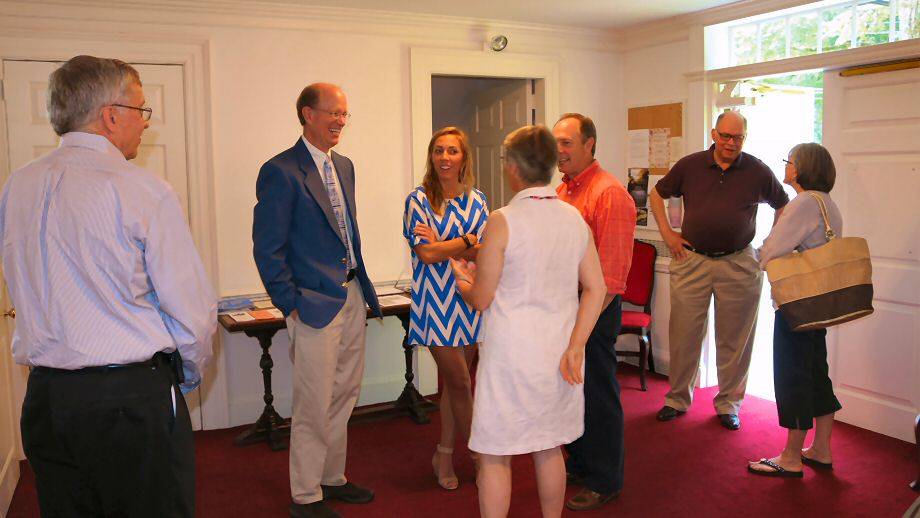 The Wednesday evening meeting includes hymns, silent prayer, readings from the Bible and Science and Health on a topic of current interest, and testimonies of healing from the congregation. There is no collection, and all are invited to attend.

Organ music accompanies all of our services. You may be interested in listening to some organ music recorded at our church.

---
Sunday School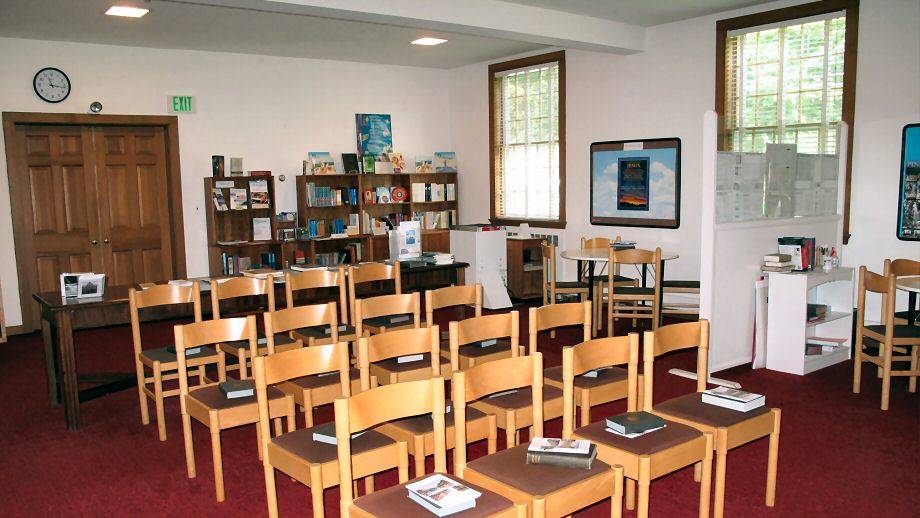 Young people up to the age of twenty are welcome to attend our Sunday School.

Students concerned about identity, relationships, peer pressure, and worry about the future find answers to what life is all about. They study the Bible, and the Lesson-Sermon. They also study the Ten Commandments, the Beatitudes, the Lord's Prayer and the Sermon on the Mount. Their study and class discussions give them the tools they need to meet the many challenges faced by young people today.
A Sunday School service begins with readings from the Bible and Science and Health. There are some hymns with piano accompaniment, the Lord's prayer, and a brief time for silent prayer. The rest of the hour is spent with teachers in classes by age group. These teachers bring the wealth of their own life experience and dedication to youth to the teaching process.
---
Children's Room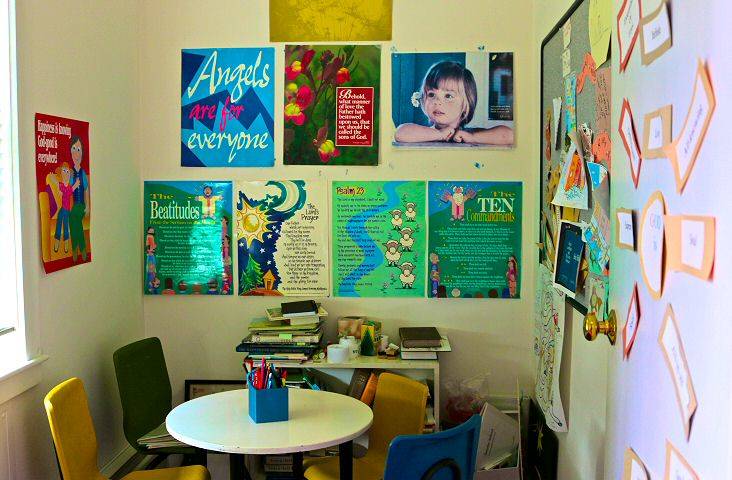 Child care for the very young is provided free of charge, under the care and supervision of an experienced adult.
Infants and children who are too young to attend Sunday School are lovingly cared for, and may be brought 10 minutes before the start of either the Wednesday or Sunday services.
---
Reading Room
You are welcome to visit our public Reading Room. It is located on the lower level of our church by the Sunday School entrance.
In our Reading Room, you may read, borrow or purchase literature on Christian Science. Bibles, Science and Health with Key to the Scriptures by Mary Baker Eddy, periodicals, concordances, and other study reference tools may be found here.
A computer is also available with Concord, a computerized concordance to the King James Version of the Bible and the published writings of Mary Baker Eddy. Visitors may use it to quickly find or print any desired information from the Bible, or the writings of Mary Baker Eddy.
We also have tapes & CDs on healing, relationships, employment, ageless living and parenting. For children, we have "Jesus' Healings" – All three volumes of the new books which include all the accounts of Jesus' healings in the Gospels. We also have the "Sing & Shine" cassette and many soft and hardcover books for children.
All are welcome to visit our Reading Room at the hours listed below and after the Sunday church services.
Also, recently placed on Main Street is our "Little Christian Science Reading Room".
Built as an exact replica of our church by one of our members, it serves as a free literature distribution box.
We look forward to seeing you!
---
Church, Reading Room and Contact Information
Sunday Serviceand Sunday School
10:30 AM (In-person and Zoom)
---
Wednesday Testimony Meeting
8 PM (In-person and Zoom)
---
Thanksgiving Day Service
10:30 AM (In-person and Zoom)
---
Reading Room Hours
Saturdays from 10AM till noon and after the Sunday church services
Church and Reading Room
260 Main Street
Ridgefield, CT 06877-4935
(203)572-5515
Church and Reading Room Location
Send us an Email

Contact the Ridgefield Christian Science Church
---
Make a Donation
Click the button above to make a donation to our church using your credit card or PayPal.