First Church of Christ Scientist, Willimantic, CT
Nov 6, Sunday, Willimantic: In-person lecture at 3 PM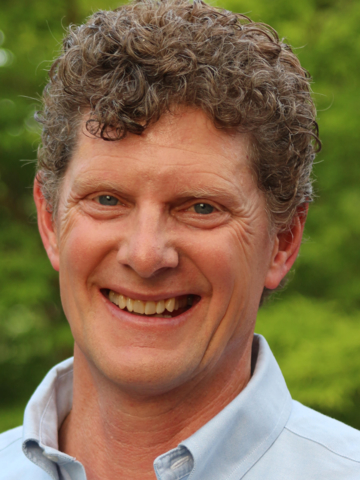 Title: WHY EVERYONE IS NEEDED
By James Shepherd
Sun, November 6, 2022 at 3:00 PM
Location: ECSU, J. Eugene Smith Library, Johnson Rm., 83 Windham Street, Willimantic, CT 06226
James Shepherd, public practitioner of Christian Science healing and speaker, will present his talk "Why everyone is needed" on Sun, November 6, 2022 at 3:00 PM at ECSU, J. Eugene Smith Library, Johnson Rm., 83 Windham Street, Willimantic.
His talk will focus on universal healing precepts found in the Holy Bible, especially in Jesus' life and teachings, showing how they are available for anyone to understand and experience through the lens of Christian Science.
This lecture explores the nature of God, infinite love, as the only cause, and our unbreakable connection to God as God's offspring. It shows how this gives us our purpose and worth; what it means to see everyone from a more godlike, or spiritual, point of view. And why seeing everyone in this way has such an impact on our lives and on the lives of others.
Sharing examples of healing, and of lives that have been transformed and lifted from dark times to healing and progress, Shepherd will explain why Christian Science is both Christian and scientific; meaning that people can prove its effectiveness for themselves, as fully described in the book "Science and Health with Key to the Scriptures," written by the founder of the Christian Science movement, Mary Baker Eddy.
For over 150 years, people around the world have also worked to follow Christ in this practice of Christianity and continue to do so today, with healings of physical ills and personal difficulties for themselves and others.
James Shepherd has been a Christian Science practitioner for many years, helping people on a daily basis through this scientific approach to prayer. Based in Eugene, Ore., he speaks to audiences around the world as a member of the Christian Science Board of Lectureship.
---
About Our Church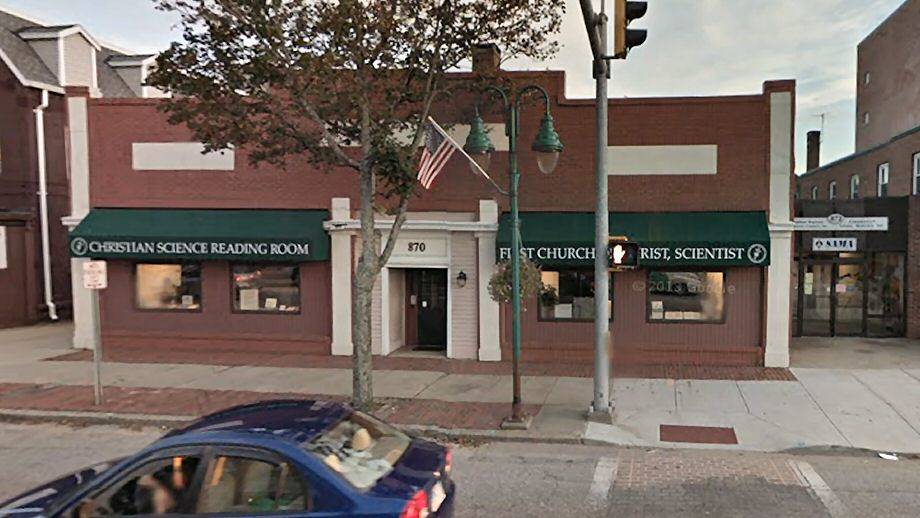 Our church is a branch of The Mother Church, The First Church of Christ, Scientist in Boston Massachusetts. The Church was established in 1879 by Mary Baker Eddy following her discovery of Christian Science in 1866.
We are located in northeastern Connecticut at 870 Main Street, Willimantic, near Eastern Connecticut State University, the University of Connecticut, and Quinebaug Valley Community College.
There is easy on-street parking as well as a public parking lot within two blocks of the church.
---
Our Focus On Christ-Healing
As stated in our Church Manual, the Christian Science church is "designed to commemorate the word and works of our Master (Christ Jesus), which should reinstate primitive Christianity and its lost element of healing." Jesus also promised, in the New Testament book of John, "He that believeth on me, the works that I do shall he do also; and greater works than these shall he do."
This focus on spiritual healing is apparent in our Sunday morning worship service, our Sunday School, our Wednesday testimony meeting, and in the many resources in our Reading Room. Everyone is welcome to attend and participate in our services and is invited to explore the inspiring resources of our Reading Room.
Listen to our services from home
If you cannot join us in-person for our services, you can participate via our free conference call number.
Please call 617-793-8898. It is not necessary to announce yourself, and your phone will be muted automatically.
---
Sunday Services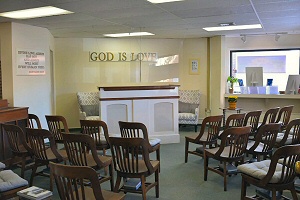 Our one-hour Sunday service is conducted by two readers elected from our membership; there is no ordained clergy. The service includes congregational singing, prayer, Bible-readings, a voluntary offering, and a Sermon, which consists of citations from the Bible and the Christian Science textbook, Science and Health with Key to the Scriptures by Mary Baker Eddy.
These two books are the Pastor of every Christian Science church throughout the world. Currently, our services are being conducted in line with State of Connecticut guidelines for churches during the pandemic.
---
The Weekly Bible Lesson-Sermon
The Lesson-Sermon read on Sunday can be found in the Christian Science Quarterly. Every Sunday, in Christian Science churches throughout the world, the service is based on the Bible Lesson-Sermon for that week. Many find that the Bible Lesson serves as a daily guide essential to their study and practice of Christian Science. The Quarterly is available by subscription, or purchase from our Reading Room.
---
Sunday School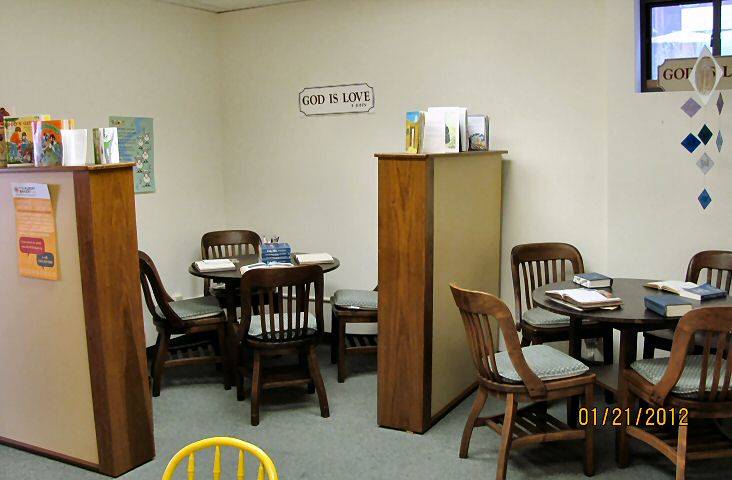 Young people up to the age of twenty are welcome to attend our Sunday School, which meets at the same time as our Sunday worship service. Young children are taught the Ten Commandments, the Beatitudes, the Lord's Prayer and the Sermon on the Mount.
Older students continue study of the Bible and look to the Weekly Bible Lesson-Sermon to prompt inspiring discussions about identity, relationships, and other topics of interest to them. All students are encouraged in their understanding of the healing power of God's love and how to pray for themselves and others as taught in Christian Science.
With social distancing requirements, it could be helpful to know in advance if students will be visiting our Sunday School. When Sunday School students are not able to attend in person, we are keeping in contact via social media.
---
Wednesday Testimony Meetings
Our weekly one-hour Wednesday meetings highlight our church's focus on the current-day practice of spiritual healing as taught in Christian Science. Approximately one-third of each meeting is set aside for individuals to share informally about experiences they have had where the teachings of Christian Science have led to healing solutions to problems of many different types––physical, emotional, financial, family, employment.
These expressions of gratitude are encouraging and inspiring to all who attend these meetings. Individuals participating via phone conference call-in are also able to share their gratitude during these meetings. Congregational singing, prayer, and readings from the Bible and Science and Health with Key to the Scriptures by Mary Baker Eddy, round out the meeting. No collection is taken.
---
Thanksgiving Day Service
We hold a special one-hour Thanksgiving Day Service at 10 am. Like our Wednesday testimony meetings, it includes time for individuals to informally share their gratitude for all of God's blessings. We also pray, sing together, and hear the Thanksgiving sermon read from our Pastor, the Bible and Science and Health with Key to the Scriptures.

---
Children's Room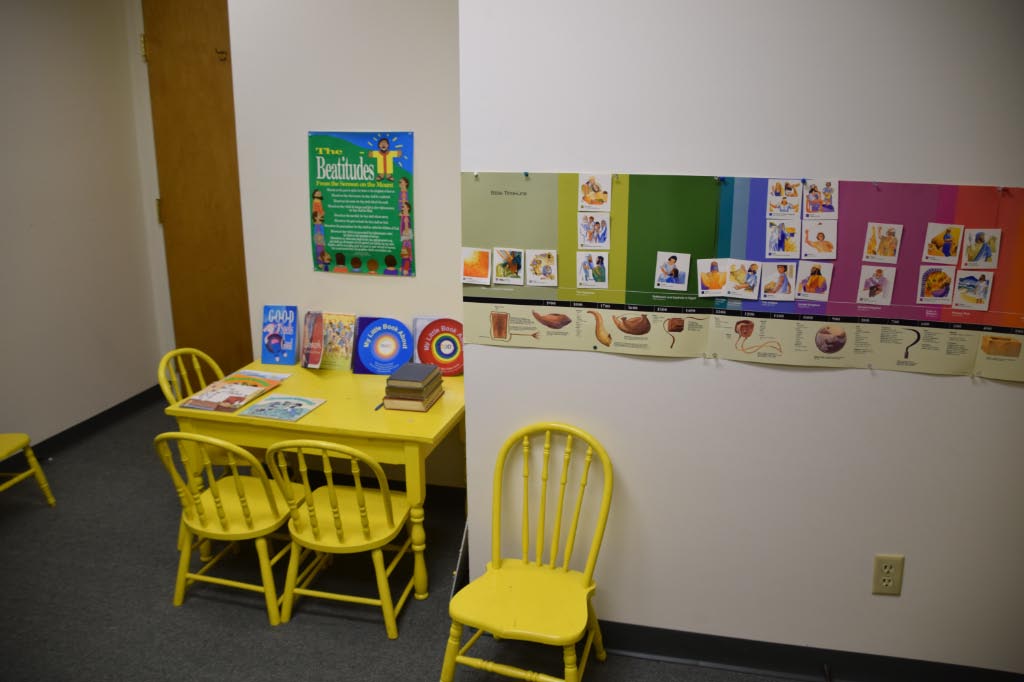 During the present pandemic, our Children's Room is temporarily closed on Sunday and Wednesday.
We look forward to being able to welcome infants and children too young to attend Sunday School or the Wednesday Testimony meeting to our Children's Room when reopening guidelines make it possible.
---
Reading Room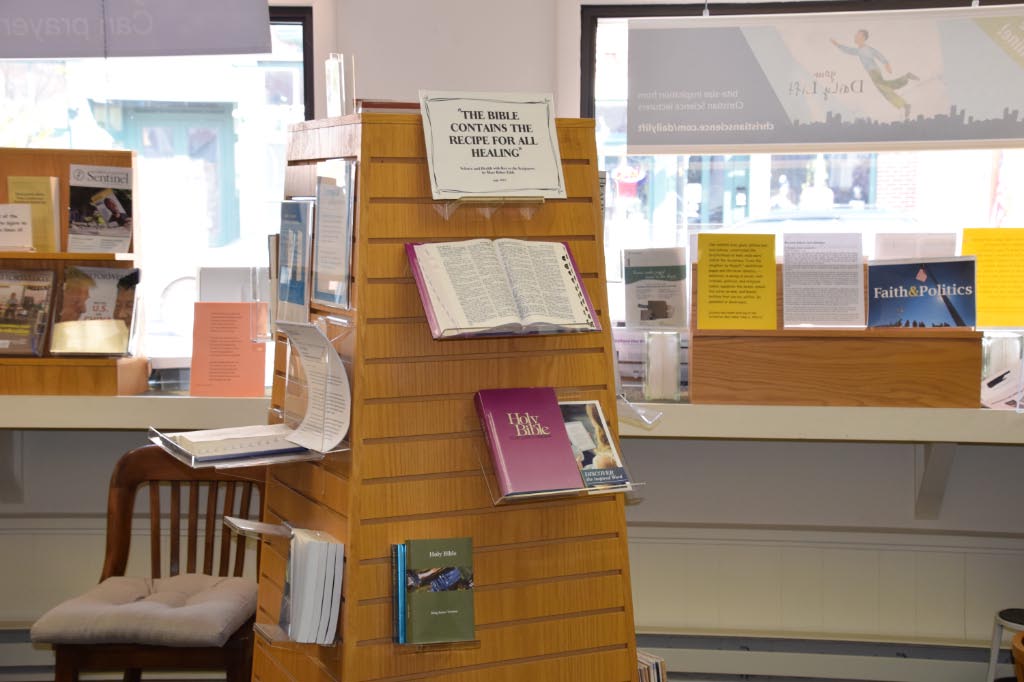 We open our Reading Room to the public with the hope that it will provide "a cup of cold water" to a thirsty heart. We warmly welcome passers-by who come in and say "what is this place?; what is this science that heals?" We pray for the opportunity to introduce someone to the particular perspective that Christian Science shares about "God with us" ––His loving presence in our lives, and its healing effect.
The Reading Room can be a quiet oasis for one to pray or read, or it can be a place for a life-changing conversation with an attendant on duty. It has an abundance of printed, audio, and digital resources for those wanting to learn what Christian Science teaches about spiritual healing as demonstrated by Jesus and as practiced today in Christian Science.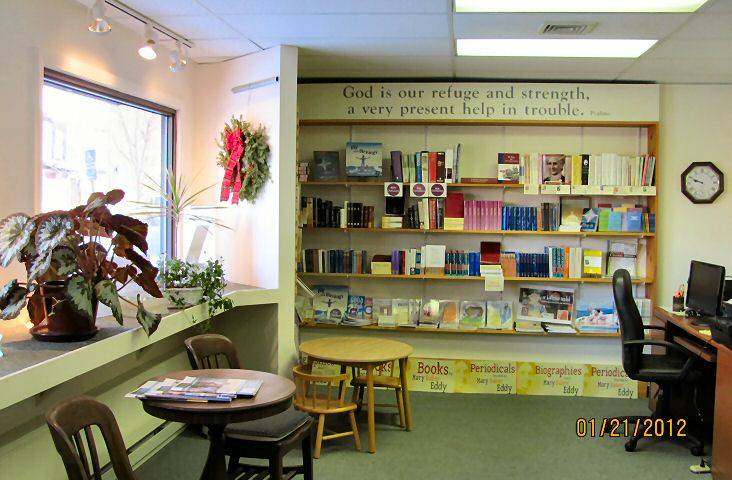 Resources available include Bibles, Bible reference materials, Science and Health with Key to the Scriptures, all of the writings of Mary Baker Eddy as well as biographies and children's books. Christian Science publications, including the Journal, Sentinel, Herald, Monitor and Quarterly Bible Lessons, are available in print and online.
Concord, an online concordance to the King James Version of the Bible and the published writings of Mary Baker Eddy, is available for research. One can quickly find or print any desired information from these publications.
Our Reading Room is located at 870 Main Street, Willimantic, across the hall from our church meeting room.

---
Additional Resources
Sentinel Watch Is a weekly 30 minute audio podcast produced by the Christian Science Publishing Society. It includes one or more guests who explore a specific topic of interest, and illustrate how God's laws were a practical help.


---
Church, Reading Room and Contact Information
Sunday Serviceand Sunday School
10 AM (In person) or via conference call. Dial 617-793-8898.
---
Wednesday Testimony Meeting
4 PM (In Person) or via conference call. Dial 617-793-8898.
---
Thanksgiving Day Service
10 AM (In-Person) or dial 617-793-8898
---
Reading Room Hours
Tuesday and Friday 10-1, Wednesday and Thursday 1-4
Church and Reading Room
870 Main Street
Willimantic, CT 06226
(860) 456-3230
Church and Reading Room Location
Send us an Email

Contact the Willimantic Christian Science Church